What is a breast lift?
Sometimes, breast augmentation calls for supplemental techniques that will give the patient the outcome they envision. It is with this in mind that the Dr. Steven Ip's Clinic in Newport Beach has perfected the breast lift surgery, to be able to make it more accessible for women who want to improve their appearance by getting that extra boost, both in their cup size and their confidence. This procedure could possibly involve making some predetermined adjustments to breast tissue in order to give it the necessary lift it needs. This will help the patient to achieve the aesthetic outcome that she desires, by restoring the breasts to an upright position.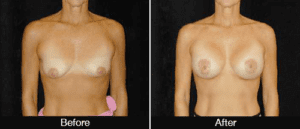 To view more of Dr. Ip's breast lift cases, click here to view our photo gallery.
Why is it done?
A breast lift procedure is done because implants alone will not be able to correct sagging breasts. When done in conjunction with an implant procedure, augmenting the size without the additional lift may actually contribute to sagging overtime. A breast lift will not only improve the shape of the breast, but also give the augmented breast the necessary support to keep it from becoming droopy after the procedure.
What should I expect in the breast lift procedure?
Prior to the surgery, the patient will be put under general anesthesia. Then the surgeon will make the necessary incisions to facilitate the breast lifting procedure. Typically, these incisions will be in areas that are ultimately going to be removed or trimmed off and tightened during the procedure. Excess skin and breast tissue will be removed according to the needs of the patient and based on the professional assessment of the surgeon. Once all the excess tissue has been trimmed, the patient's nipple will be repositioned to the ideal spot on the lifted breast. The incisions will then be closed using sutures.
What about recovery?
After the procedure, the patient may be required to wear compression garments that will give her additional comfort and support during the recovery process. In addition to that, compression garments will also help to minimize the swelling postoperatively. Pain medication and antibiotics will be prescribed by the doctor to manage discomfort during recovery and to make sure that infection does not set in.
What results will I get with a breast lift with implant procedure?
You will be able to see a change in the drastic improvement on the position of your breasts immediately after this procedure. The breasts will be shapelier, and perkier, instantly transforming the patient's silhouette. The breasts will also become more evenly proportioned after surgery.
If you have any questions, or if you want to learn more about breast lift, please call Dr. Ip at (949) 548-0300. For a consultation, or to setup an appointment click here.
Proudly serving Newport Beach and Beverly Hills.