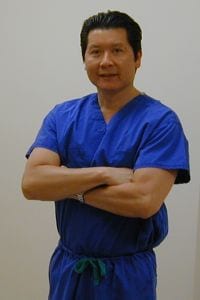 Based on commitment, dedication, and excellence, Dr. T. Y. Steven Ip, M.D., F.A.C.S. comes from a large family with siblings who are also outstanding doctors all committed to the care of patients. His father is a retired mechanical engineer who was educated at Columbia University and Massachusetts Institute of Technology. He has four brothers and two sisters. His oldest brother is a Johns Hopkins and Stanford trained cardiologist specializing in heart failure and his wife is a Stanford trained physician practicing psychiatry. His second brother and wife are graduates of University of California Berkeley and work as a civil engineer and chemical engineer. His third brother and his wife finished business school at NYU and works in the financial and banking world. His last brother is a UCLA and Cornell trained orthopedic surgeon specializing in the surgery of the hand, and his wife is also an UCLA trained physician practicing internal medicine. His two sisters are both cosmetic and general dentists. One is married to a physician and the other to a real estate developer. The caring for other people have always been integral part of Dr. Ip's background.
Dr. T. Y. Steven Ip also presents a distinguished and prestigious academic resume'. He received a Chancellor's scholarship to attend UCLA, where he graduated with an Engineering degree along with finishing his pre-medical studies. During that time he spent many hours volunteering at the UCLA hospital along with working in a research lab. It is with this experience that Dr. Ip decided to pursue a career in medicine.
After excelling in his undergraduate studies, Dr. Ip receiving an academic scholarship to the University of Texas. He finished medical school education at the University of Texas and pursued a path toward surgery.
Excelling in medical school, Dr. T. Y. Steven Ip began his surgical career in the largest Metropolitan area in the country, New York City. He spent 5 years of training in General Surgery at the renowned Columbia University College of Physicians and Surgeons, St. Lukes/Roosevelt Hospital Center in New York City. He later served as chief resident in General Surgery.
To further his surgical expertise Dr. T. Y. Steven Ip specialized his surgery to Aesthetic, Plastic, and Reconstructive Surgery by spending 3 years at prestigious Duke University, where he also served as chief resident. During his last year at Duke University, Dr. Ip presented his original research at the Senior Residents Conference and was awarded "The Best Aesthetic Paper for the year 1999".
Dr. T. Y. Steven Ip is an active member of the American College of Surgeons and the American Society of Plastic Surgeons. He is board certified by the American Board of Plastic Surgery.
In the media Dr. T. Y. Steven Ip's before and after results have been shown in national publications from "Playboy" to "Glamour".
Dr. T. Y. Steven Ip has been the President of the Orange County Society of Plastic Surgeons and the Vice-Chairman of Plastic Surgery of Hoag Memorial Hospital in Newport Beach, California.
Outside of medicine, Dr. T. Y. Steven Ip lives in Newport Coast and enjoys being an active part of his community and charitable foundations. He also enjoys sports and is an avid runner, cyclist, surfer, tennis, and basketball player.
Educational Background
Plastic Surgery
Duke University Medical Center
General Surgery
Columbia University, New York City
St. Lukes / Roosevelt Hospital
Medical School
Undergraduate University
Board Certification
American Board of Plastic Surgery
American Board of Surgery
Membership and Societies
American Society of Plastic Surgeons
American College of Surgeons
California Society of Plastic Surgeons
Orange County Society of Plastic Surgeons
Orange County Medical Association
Hospital Affiliations:
Hoag Memorial Hospital
Newport Beach Surgery Center
Irvine Regional Medical Center
Fountain Valley Hospital