If you're considering having breast augmentation surgery, one of your decisions will be the type of implant. In the past you've had two choices, saline or silicone. But in 2012 a new type of implant, although still silicone, entered the options — the gummy beat implant. Here's some information on these newer implants.
What is a gummy bear implant?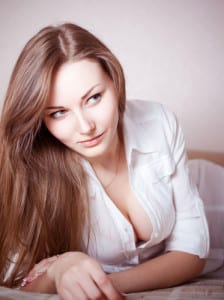 There are different terms referring to these implants. You may have heard cohesive, gummy bear, form-stable, or highly cohesive. These terms denote the attributes of these implants made by the Sientra company. These implants retain their shape, unlike other implant choices, because the gel is thicker than traditional silicone implants.
High-strength silicone gel
Sientra has developed a new silicone gel for these implants. They call it high-strength silicone gel (HSC). They claim their gel is strong, yet very soft to the touch. Their HSC gels are proprietary to Sientra implants.
Two shapes
Gummy Bear implants come in two shapes basic shapes, round (HSC) and teardrop (HSC+), with a variety of shapes and sizes within those two categories. The HSC implants offer a fuller, more dramatic appearance in the upper portion of the breast. The HSC+ implants are designed to mimic the natural look and feel of a breast.
All Sientra implants are made with what the company calls TRUE Texture® Surface, a strong shell with texture designed to maintain its position in your body.
Their safety statistics
Sientra cites five years of study with gummy bear implants. Here are some statistics.
Over 98% rupture-free through five years
Zero reported incidences of implant rotation
Low rate (3.9%) of capsular contracture
Dr. Ip offers gummy bear implants to his patients in Newport Beach and Manhattan. If you're interested in learning more about these options, call and set up a consultation with Dr. Ip.