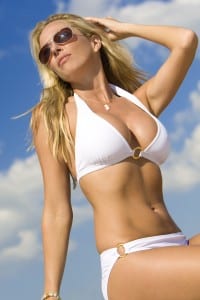 A breast augmentation should be able to pump up our breasts as well as boost a woman's self-confidence. But when things start going wrong, the result can turn from gorgeous to horrible in an instant. Don't let this happen. Take some damage control before your breast implants start changing for the worse.
Here at Dr. Ip's Newport Beach plastic surgery practice, we make it a point to inform patients on when they need breast implant correction.
Changing Implant Size
If you feel like your breasts are too small for your liking, the size of your implants can still be changed with a breast implant correction. During this surgery, your surgeon will cut through the original incision to remove the implants and replace them with a new one. The implant pocket is also enlarged to make way for a larger implant.
Removal of Implant
If the breasts become large enough that they already outstretch the skin, a breast lift with breast implant removal may be recommended by your surgeon. Once the original incision is cut, the implant is removed. The capsule surrounding the implant may be removed as well in order to promote healing.
Dealing with Capsular Contracture
Over time, patients with breast implants may experience the hardening of the implant and capsule — a complication known as capsular contracture. Using the same incision from a previous breast augmentation surgery, the hardened implant and capsule are removed while a new one is inserted.
Improving Implant Rippling
There are times when the edges of breast implants become visible and palpable. To correct this, a different type of implant or a new implant can be placed into a different breast pocket. Other tissues can also be used to cover implant rippling.
Breast Implant Correction in Newport Beach
You don't have to fret if you are unsatisfied with the results of your previous breast enhancement. You can have a better and more satisfying breast profile through breast implant correction. Give us a call today at (949) 548-0300 or fill out this online contact form to book an appointment with Dr. Ip. We look forward to hearing from you!