Contrary to what some people may think, breast augmentation surgery is complex and requires an experienced surgeon. What if you had your augmentation performed by a surgeon who either made some mistakes or there were complications? You don't have to live with the unsatisfactory results. Dr. Ip can perform breast implant correction to give you the figure you had hoped for.
Breast implant correction involves the removal and/or the replacement of your existing implants. While there are many reasons for choosing to have this correction procedure performed, Dr. Ip guarantees you'll like the end result.
Reasons for breast implant correction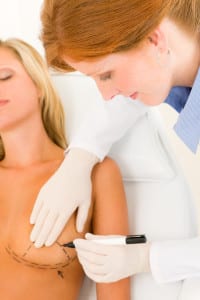 There are a number of reasons a woman may opt to revisit her augmentation surgery:
• If you want to change the size or projection of your implants
• If your saline implants have ruptured and deflated
• To correct complications from a previous augmentation
• If you can feel the borders of your implants
• If you have experienced capsular contracture or your breasts have shifted due to the building scar tissue
The procedure
Obviously, the methodology of your procedure will depend on your reasons for implant correction.
Changing the size — This will involve removing the old implants and inserting implants of your new desired size. If going larger, the breast pockets will be adjusted to fit the new implants. If reducing size, a breast lift may be needed in addition to placing the new smaller implants because the skin will likely have stretched.
Capsular contracture — Sometimes the body reacts to the placement of implants by building scar tissue around them. This makes the implants hard and can cause them to shift position with the growing scar tissue. Dr. Ip will remove the old implant and the surrounding scar tissue before placing the new implant. He will utilize the same incision locations to avoid new scarring.
Rippling or feeling the borders of the implant — In these cases, the implants were not placed in a position with sufficient muscle coverage. Dr. Ip will make a new pocket with better coverage.
Incorrect position of implants or nipples — If the implant is incorrectly placed, or if the nipples and areolae have shifted downward, Dr. Ip can fix both of these issues.
There's no reason to be unhappy with your breast implants. Call Dr. Ip at his Newport Beach or NYC office and schedule a consultation about breast implant correction.